Originally the Samurai were warriors employed by a lord, but the big difference between them and, say, their mediaeval contemporaries in Europe - the men at arms who were the private army of a feudal landholder - is that they were an hereditary caste, barred from menial work and sustained by a dole of rice obtained via the taxation of everybody else in Japan. A few had become extremely rich (but most had not) via Japan's internal wars, which were ultimately brought to an end about a century after an equivalent strong man in England brought the Wars of the Roses to a close. By the mid-19th century Japan had spent a quarter of a millennium cut off from the outside world and the military function of the Samurai was all but extinct; but their numbers had continued to grow and the taxation to support them had become unsustainable. This was one factor in the overthrow of the Tokugawa Shoguns who had run the country since the early 16th century, and the Meiji Restoration of Imperial power. The Samurai themselves, shorn of both their original role and constitutional control, degenerated into violent racketeering gangsterism, lauding casual violence in a way that others outside Japan were eventually to experience at first hand. This I understand lives on unchecked in Japan's criminal gangs today. The difference between this and the gang cultures of nineteenth century New York or twenty first century South
London
is that these have never enjoyed the connivance, collusion even, of the State.
But I hugely over-simplify. The entire fabric of this is examined and explained via minutely detailed scholarship in this book, which is thus far, far, more than the biography of Saigo, 'the last of the Samurai'.
Click here to buy this book from Amazon
The period was long ago brilliantly depicted in fiction by 'Robert Standish' (Digby George Gerahty) in
The Three Bamboos
(1942) which I dimly remember reading at school (I was disappointed that this work did not feature in Man's otherwise eclectic and comprehensive bibliography). Both books explore the essentially synthetic culture of Bushido which, as the Japanese expanded into a wider world, morphed into a cult of deliberate and inexcusable brutality towards anyone who had the misfortune to be defenceless against them. The Japanese (as evidenced in the book under review) were already ghastly to their own people, why not to others? From this flowed the invasion of Manchuria on a faked casus belli; of Korea where, ultimately, its women were enslaved as sex objects for the Imperial troops; of China where the Nanking massacre merely stands out among thousands of other brutalities; and the miseries inflicted on the non-Japanese inhabitants of the 'Greater East Asia Co-Prosperity Sphere', across which, writ large, were exercised the cruelties and systematic starvation already visited on the I habitants of the Ryuku islands in Saigo's time.
Japanese culture and religion - Shinto, a primitive superstitious animism with only an elaborate overlay of colourful ceremonial to distinguish it from its Neolithic origins - has no prescription of morality, no theory of the uniform dignity of all individuals or their right to life. Eventually, when in accordance with Japanese mores (if you can call them that) a Samurai - as was his legal right - casually murdered a man who had not stepped aside for him, it is moot whether it was fortunate or unfortunate for Japan that the victim was an Englishman, Charles Richardson. This, eventually, led to the bombardment of Kagoshima in 1864, led by the second HMS
Euryalus
- a cannon ball took off her Captain's head while the band played "Oh dear, what can the matter be?". This brought the utter superiority of western technology, already uncomfortably demonstrated by Commodore Perry ten years earlier, rather forcefully to the attention of the Japanese, who however still tried to restrict trade with foreigners, which led the same ship to the forcing of the Shimonosheki Straits in 1865 in which action Midshipman Duncan Boyes, Captain of the Afterguard Thomas Pride, and Ordinary Seaman William Seely were awarded the Victoria Cross. Our losses in these events are remembered in a memorial just outside Yokohama.
The 'hero' of the book under review - I have strayed somewhat from the narrative - initially supported modernisation but found his loyalty (his substitute for a moral compass) challenged when he belatedly realised that this meant that the Samurai system was at last recognised as obsolete and that it faced obliteration. He pushed in to lead a rebellion in Satsuma province in SW Kyushu and was eventually defeated and killed after a lengthy and quite skilled terrorist campaign against the new sort of Government troops - mere peasants and not Samurai at all. In the process he managed to bring about a large number of deaths and considerable damage to property for no good cause at all, in a campaign principally distinguished for its sheer pointlessness. At one level the narrative of this is, technically, an excellent account of a COIN campaign, the logistics of both sides well explained, as Saigo is chased literally up hill and down dale and finally brought to bay. For this as for the rest of his book the author has not only studied widely but walked the course in person, albeit necessarily with an interpreter, thus bringing the setting to life for us.
Saigo's essential problem was that he was thick, and ego-driven with it; too dim to anticipate political shifts; too blinkered to understand that a new Japan must necessarily be different from the old; and too ego-driven to accept that perhaps the idea that he was right and everyone else was wrong was not necessarily correct. Bizarrely he soon came to be revered, various falsehoods being woven together to create a hero myth whose persistence, and its comcomitant memorials, with Saigo kitsch on sale to those who make their fatuous pilgrimages to the scenes of his activity, says something quite nasty about the modern Japanese. Indeed we are told that Richardson's murderer's tomb is also still an object of veneration. If anything Saigo was a tin-horn version of that even more evil villain Napoleon Bonaparte, who inflicted appalling misery on Europe from Gibraltar to Moscow and eventually led France, so expensively, to utter humiliation. Perhaps mercifully Saigo was only able to practice the bullying, violent, brutal art of the samurai in his home province. That he mellowed at all seems only due to age.
The production values of the book are flawless, with excellently selected and presented colour illustrations. The text is a solid piece of scholarship. The highly complex story of the Meiji Restoration, effectively the birth of modern Japan, is treated in detail but economically - the reader has to concentrate to understand it. That the author, in order to elevate his subject, does however suppress any sour notes regarding the feelings of the countless victims of the Samurai philosophy. He even seems to admire Saigo, which is quite preposterous. However Man does try to explain the sociology and psychology - anthropology might not be too strong a word - involved in the Samurai story, and does document - for instance - the systematic homosexual exploitation of juveniles that was involved. As a primer on how Japan came to be what it is the book is probably more important than as the biography of a man who was, ultimately, a loser, although what made Saigo tick is well explained and effectively a metaphor for his culture.
Japan is a difficult place to understand - my only conclusion from long-ago visits to Yokohama and Tsuruga, and from working with Japanese later, is that they have in many respects started from first principles and carefully arrived at opposite conclusions from those of the West, from split-toed gum boots and horizontal bell clappers to an unhelpful preference for a consensual answer over a correct one.
Saigo's main value is that he provides a core from which the author can explore a number themes about the evolution of Japanese society. It is in this sense that the book is most valuable.
Was Saigo truly the last Samurai? Here is a later contender, exhibiting all the virtues of Bushido: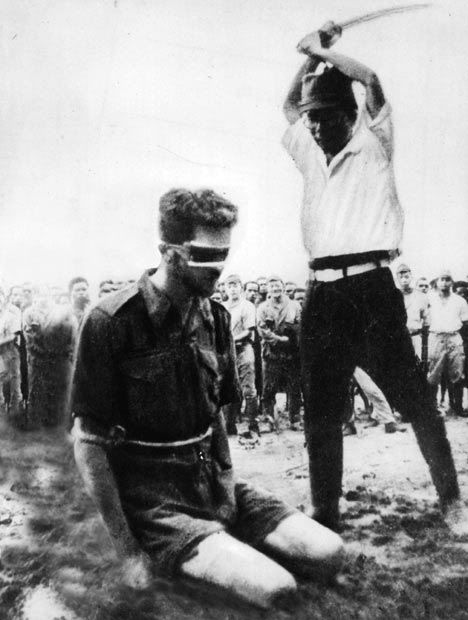 (One might ponder the attitudes of the photographer)
Has Japan actually turned the page against its hideous past? It may pretend so, but has never publicly demonstrated any convincing degree of contrition regarding its litany of shame - Nanking, Korean comfort girls, the Burma railway (which consumed countless unsung Asian labourers as well as Western PoWs), PoW death marches and so on. Necessarily and forcibly brought somewhat to its senses by two well-deserved atom bombs, its
Prime Minister
's recent personal visits to the
Yasukuni Jinja
shrine, where a thousand war criminals are commemorated, suggests that there is some way to go before common decency completely suffuses the Japanese body politic, and that pity for Japan's present straits is premature.
As a well-researched and well-presented work of historical analysis: three Anchors.
A review by Seaweed
Click here to buy from Amazon
SAMURAI- The Last Warrior
by John Man (Bantam, £20)